BMW of Riverside Certified Repair Center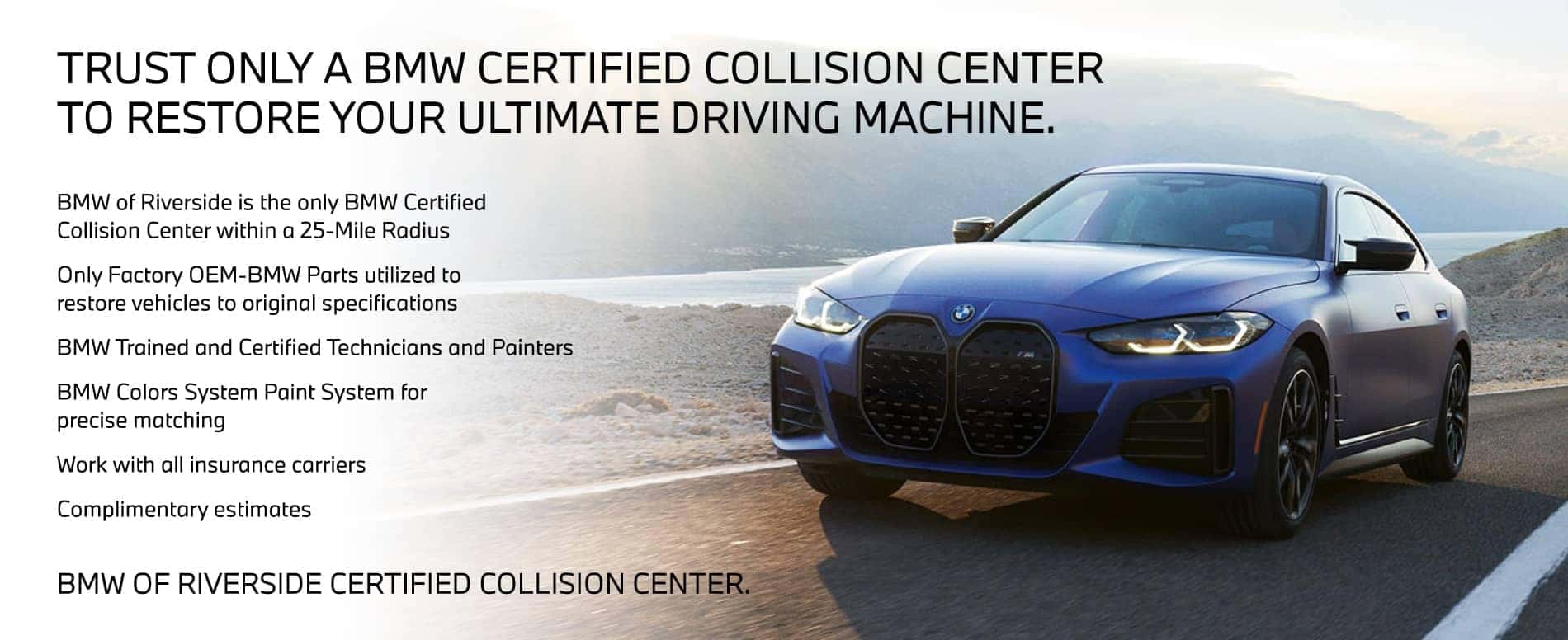 For more information, please call our specialists at 877.770.4269 or fill out the form below.
BMW of Riverside is pleased to announce that our Certified Collision Repair Center is NOW OPEN!
Why Choose our BMW Certified Collision Repair Center in Riverside, CA?
Car accidents happen everyday. And when they do, most of the time there is more damage done than meets the eye. That's why you want a BMW Certified Auto Shop to get the job done. And that's also why you want a BMW Certified Technician to inspect your vehicle thoroughly and give you a more precise and reliable repair diagnosis. Our BMW Trained Technicians receive continual training to ensure that they are knowledgeable and well equipped to service and repair your vehicle. But it doesn't stop there; Our technicians continue to get educated as new models get launched or current models get upgrades. We make sure that they are up to date with all the latest advances in auto repair technology. At BMW of Riverside Collision Repair Center, we will only use Original BMW Parts to restore your vehicle to its original specifications of performance, beauty and safety. We serve Riverside, Ontario, San Bernardino and the surrounding areas.
TRUST ONLY A BMW CERTIFIED COLLISION CENTER
TO RESTORE YOUR ULTIMATE DRIVING MACHINE.
BMW of Rverside is the only BMW Certified Collision Center within a 25-Mile Radius
Only Factory OEM-BMW Parts utilized to restore vehicles to original specifications
BMW Trained and Certified Technicians and Painters
BMW Colors System Paint System for precise matching
Work with all insurance carriers
Complimentary estimates
BMW OF RIVERSIDE CERTIFIED COLLISION CENTER.
What is a Collision Center?
A Collision Center – and, in particular, BMW of Riverside Collision Repair Center – focuses on replacing, repairing, refinishing, and shining up damaged vehicles. At our Riverside-area dealership, we place a high premium on our attention to detail, and in fixing your BMW vehicle right the first time.
Need more reason to come by our Certified Collision Repair Center? Check out our Certification plaque awarded by BMW North America!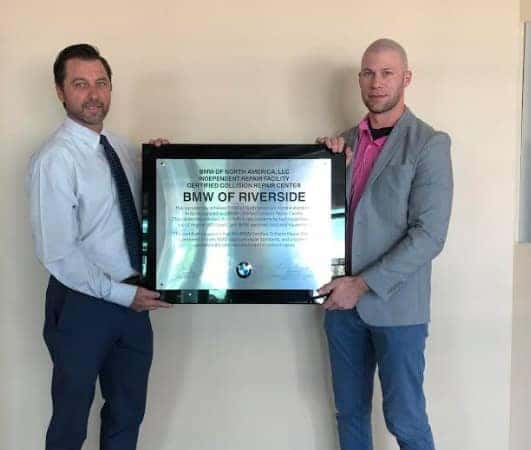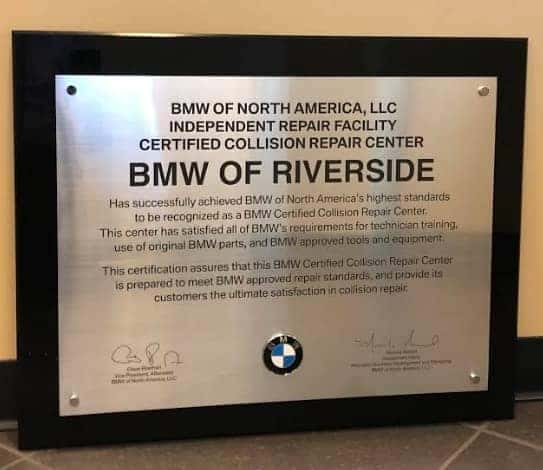 Need Towing?
Call Us and Let Our BMW Preferred Tow Provider Care For Your Needs. Cal National Towing at 949.630.5070
*Restrictions Apply and By Appointment Only
BMW of Riverside
3060 Adams St., Riverside, CA
Service: 877.705.4269
Need Towing?
Call Us and Let Our BMW Preferred Tow Provider Care For Your Needs. Cal National Towing at 949.630.5070
Complimentary Detail With Any Body Repair
I.E. Bumper Repairs, Dents, Collision Repairs or Any Other Paint Work
*Restrictions Apply and By Appointment Only
BMW of Riverside
3060 Adams St., Riverside, CA
Service: 877.705.4269
Complimentary Detail With Any Body Repair
I.E. Bumper Repairs, Dents, Collision Repairs or Any Other Paint Work
*Restrictions Apply and By Appointment Only